The Sim City 2000 Arcos
| Name | Population | Power Needed | Cost | Pollution Units |
| --- | --- | --- | --- | --- |
| Plymouth Arcology | 55,000 | 5 MW | 100,000 | 15 units |
| Forest Arcology | 30,000 | 5 MW | 120,000 | 10 units |
| Darco | 45,000 | 5 MW | 150,000 | 12 units |
| Launch Arco | 65,000 | 5 MW | 200,000 | 15 units |
Arcology Information:
If you want a low pollution arcology the best choice is the Forest Arco. But, you can only have up to 30,000 people in each Forest Arco.
If you want a higher population than the best choice is the Launch Arco. But, this Arco has the highest pollution units.
The best arcology is the Darco. With only 12 pollution units, this arco allows a population of 45,000. This is the all around best arco.
Here is a picture of all the Arco's
From left to right: Plymoth Arco, Forest Arco, Darco Arco, Launch Arco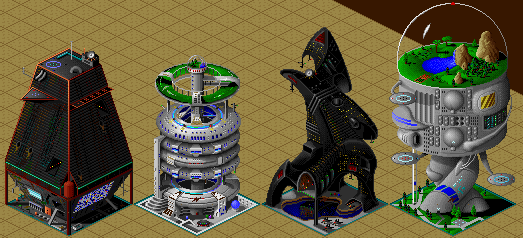 HINT: If you place a large number of launch arcos ( I beleve about 360 ) they will launch an you will get $16 million dollars! BUT the population and arcos are gone.
---
Copyright © 1999, 2019 Brian Kloppenborg. All Right Reserved.